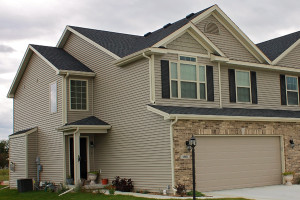 Updating your home? You may want to begin with your home's exterior first, specifically your siding. New siding may not be the first thing that comes to mind when you picture home improvement, but it's an upgrade that's worth investing in whether you're renovating your home for yourself or to help sell your home. New siding will improve curb appeal, lower energy costs in your home, and help you to increase the value of your home. The benefits that new siding presents for you as a homeowner are great, which is why you should consider swapping out your current siding for new material.
Benefits
• Curb Appeal – Want to improve the overall exterior look of your home? Start with your siding. You'll be able to decide the color and style of your siding, which will help you customize your home however you'd like. New siding also means a refreshed look for your home and a chance to personalize it according to your preferences. Make sure to find a siding company that will help you choose and install your siding.
• Increased Market Value – If you're looking to sell your home soon or sometime in the future, investing in new siding is a good idea. New windows and siding in Blue Springs will increase your home's market value and help it to sell quicker for a better price.
• Save Energy – You'll retain more heat in the winter and bring in less in the summer, which means your energy bills will be lower.
Types of Siding
• Vinyl – Vinyl siding is low maintenance, low price, and extremely sturdy.
• Fiber Cement – For the eco-conscious consumer, fiber cement siding is made up from natural ingredients including cellulose and sand. It will require some maintenance, but it's eco-friendly and more sustainable.
• Plastic – If you want your siding to look like wood, you want to choose plastic siding. Plastic siding is also very cold weather resistant.
Integrity Roofing LLC is one of the best siding companies in Kansas city.
1430 SW Woodhull St, Topeka, KS 66604, United States