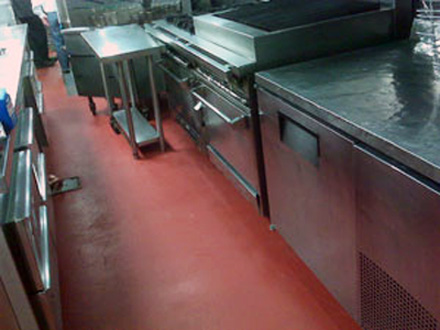 Much commercial building and home owners are looking for the perfect Floor Covering choice. It is easy to limit the choice to common floor coverings such as carpet, ceramic, sheet flooring, tile, or wood. Another floor covering choice to consider should be poured flooring. This type of flooring requires specialized companies and installers but results in a durable seamless floor that will last for many years with low maintenance requirements. The customer is not choosing an existing pattern and colorway, but choosing the design and color combination themselves.
Poured flooring has no seams or pattern matches to mess up. There are no periodic stripping, re-waxing, and polishing requirements. If this floor is properly installed, it will last for many years with regular cleaning. One thing customers like about poured floors is the customer choices of color chips and pattern designs. Good poured flooring companies can even enlarge a company logo or photograph to cover the whole floor area. Design possibilities are only limited by the customer's imagination.
What is a poured floor and how is it installed?
Poured floors can be made of epoxy, acrylic, urethanes, self-leveling material, and other materials that are determined by the end use. A car showroom may need a different material than a medical facility. A furniture showroom will call for a different floor than a warehouse. Some buildings need flexible flooring, waterproof flooring, or non-skid flooring. Once the proper base is chosen, the design elements are chosen. The floor's design is made with millions of small color chips of various materials and colors. The floor is properly prepared by making sure it is level, smooth and clean. The next step is to pour an even layer of the floor base. After the base is poured, the color chips are applied in the design chosen by the customer. When the design chips have been applied, the floor is finished and allowed to dry. This type of flooring requires the space to be covered to be completely vacated during the installation process.
When properly installed, a poured floor can be a thing of beauty and endurance. A poured floor can match the interior design plan to perfection. A poured floor can also be done in a quiet design that fades into the background, just doing its job. For more information, please go to Hoffmanfloorcovering.com.